Click for enlargements.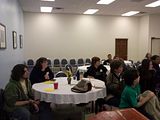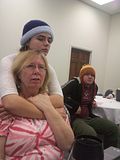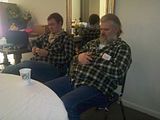 This was the teen/young-adult panel. From left, Holly and Kirby Dodd, Roxana, Roya and Rosie Sorooshian, Kathryn Fetteroll and Marty Dodd (kinda ghosted out; sorry), and then listening on the side, Marty's girlfriend Ashlee, and Cyrus Sorooshian, the father of those three middle girls.

The art on the walls was Joyce's demonstration of how words are translated (not so well), and the cards were from the Blizzard poker set Kirby got for Christmas, at work (his show and tell).