There is a new museum in Santa Fe. I haven't been there yet, but it looks wonderful.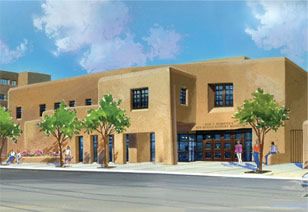 New Mexico History Museum
The history museum in Santa Fe has been The Palace of the Governors, a very old building with a wonderful history, but just the history of that building fills the building, and much of it is 17th and 18th Century history.
This new museum isn't limited to Santa Fe, or to the plaza, although it is still
in
Santa Fe and on the plaza!
I'll find out more before January, but as to rates, for out of state visitors singly, it's $9 a day for those two museums, or $20 for a four day pass to several museums. With a group of ten or more, out of staters can get a discount ($18 for four days, and I'm not sure about the other).
I'm not proposing a group trip to the museum. It's just a few blocks away and will be there. I'll check on getting a discount for proof of conference attendance, though, before January.